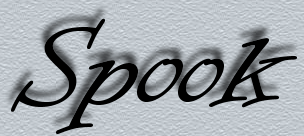 born August 2004
Spook was just 4 months old when we adopted her. She is quite the mischievous one too.
These two pictures below were taken December 1st, 2004, the day we brought her home from the shelter.
If you click on the pictures, you can see the full size ones :)
---
Just as with children, it's important to keep good records of your kitties health as well. It certainly comes in handy, so that you know EXACTLY when their boosters are due. Contrary to popular belief, kitties need to get boosters too, not just dogs. Amazing how many folks don't realize that kitties need shots too. Shots are not just a dog thing, and they are just as important for kitties as they are dogs.
Along with Spook's shot records below, we will also be listing all her vet visits too. At least this way if we should misplace the papers, we'll have it all here too, and could easily print it out to take with us to the vet. :)
Spook

born sometime in August 2004. We will celebrate her birthday on Aug. 1st.

Date

Reason

Procedure

Doctor

Aug. 31, 2004

Fleas

Revolution Flea Treatment

Humane Society, Atascadero, CA

Oct. 13, 2004

FIV/FELV

Tested for Feline Leukemia and Feline HIV

Humane Society, Atascadero, CA

Oct. 25, 2004

Wormed

Drontal Worming Treatment

Humane Society, Atascadero, CA
Oct. 25, 2004
FVRCP

Shots

Humane Society, Atascadero, CA
Dec. 03, 2004
Check-up due to eye discharge

Well Check -- weighed in at 4# 10 oz. -- she had an upper respiratory infection and an eye infection. She was given antibiotics and a cream for her eyes.

Animal Hospital of San Luis Obispo, San Luis Obispo, CA
Jan. 25, 2005
Spaying

Spayed

El Camino Veterinary Hospital, Atascadero, CA
Jan. 25, 2005
Vaccination

Rabies Shot

El Camino Veterinary Hospital, Atascadero, CA
Feb. 05, 2005
Suture Removal

Sutures from spaying removed

El Camino Veterinary Hospital, Atascadero, CA
Feb. 05, 2005
FVRCP

Booster -- weighed in at 5# 14 oz.

Humane Society, Atascadero, CA
Mar. 01, 2005
Diarrhea

r/d Feline Can Cat Food

Animal Hospital of San Luis Obispo, San Luis Obispo, CA
May 16, 2005
Vomiting/Diarrhea

Clavamox Drops -- weighed in at 7# 0 oz.

Animal Hospital of San Luis Obispo, San Luis Obispo, CA
June 23, 2006
Vaccination

FVRCP Booster -- weighed in at 9# 2 oz.

Animal Hospital of San Luis Obispo, San Luis Obispo, CA
June 23, 2006
Vaccination

Rabies 3 Year

Animal Hospital of San Luis Obispo, San Luis Obispo, CA
June 04, 2007
Vaccination

FVCRP Booster -- weighed in at 9# 6 oz.

Animal Hospital of San Luis Obispo, San Luis Obispo, CA
FVRCP Booster Due: 06/04/2008
Rabies 3 Year Booster Due: 06/23/2009


---